Señora Gose's Homeschool Spanish Blog (aka "Seriously, Suzanne")
All right - Scheduling is a thing that we HAVE to do. Right? If it's not on the calendar, it doesn't happen. We all know that, because we have those AWESOME friends and we tell them something like this: "We should really hang out sometime."And then we never do it, unless we pull out our calendars and choose a time and a place. Homeschooling is exactly the same. There's enough life and love and cooking and eating and cleaning to take up the full day without ever having a single lesson. It does not automatically happen. Enter, stage left: PICK...
---
Wondering how to learn Spanish? I mean... REALLY actually LEARN it and speak it?Truly - the way you learn as an adult is the same way you learned as a child. However, here's the problem: You're not as committed! (No grown ups around to MAKE you do it.) So, if you don't have any children to learn with, (Truly, using See it and Say it is the BEST method for you!) I made a five weeks video set up for you - most adults quit something new at 6 weeks. So I made this just FIVE weeks, just for you!Here's...
---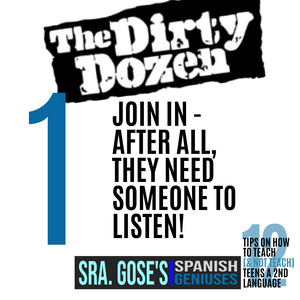 I hope this series of teaching teens Spanish (and truly ANYTHING) has been helpful to you! Remember - if you don't have a teen yet, one day you will! Learning along with your high schooler in your homeschool day is a fail-safe way to check in on their understanding. And while learning a foreign language, you must most CERTAINLY must know your purpose for doing so. It's a VERY hard thing to do. You can't just look at a list, read it over and have it in your head. It's not enough. Unlike other facts-based classes (history, science, literature), language is a...
---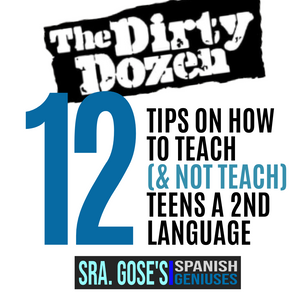 TEACHING TEENS TIP #8: It must be useful IMMEDIATELY. When you're a teenager being taught something, the first question you ask, is, "When am I ever going to use this?" So! Give them the ability to use their new knowledge RIGHT NOW. What do they love to do? (What do we all love to do?) We LOVE to give an opinion. I like, I don't like, I love, I hate... ALLLL those sentence starters are like GOLD when they are learning any new verb, noun, or adjective. Give them the ability to create an opinion, and it is useful to...
---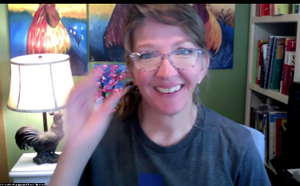 Buenos días. Today we get to talk about the differences between Flip Flop Spanish and Spanish Geniuses. What are all the differences? I've gotten a lot of questions this week, especially with the back to school flurry!Flip Flop Spanish. Let's start with the younger ages. If you have a kindergartner, as young as three years old, all the way up to 13, 14, or 15, and any of those ages in between, you're going to want See it and Say it Flip Flop Spanish. It's a full set, two years of curriculum that is fit for the whole family. Everything is...