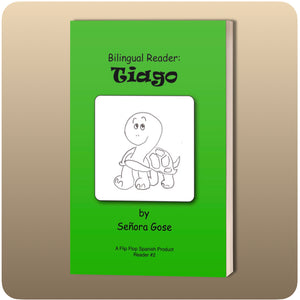 Tiago la tortuga: Bilingual Reader #2
Looking for a simple bilingual reader that keeps your child engaged?
The fun-loving story about Tiago the turtle is in English on one side of the book; flip it upside down (flip-flop it, you might say!) and start from the other side to read the same story in Spanish. A handy glossary is in the middle of the book to complete the confidence in learning and absorbing Spanish.

We LOVE this one! This purchase includes the automatic download of the e-book, the audio read aloud, and we even have a read-aloud on SpanishGeniuses.com!

After you complete just two or three lessons of See it and Say it, you'll be able to read more than half of this book in Spanish.
Coloring Activities for Young Students
Tiago the turtle needs something, and his friends are intent on finding out how they can help. Your child can color each friend, and their fanciful shell in both the English story, or the Spanish rendition.
Touches on Diversity
There are the twins, little teensy Flor, and great big huge Carlitos, all suggesting ways to help Tiago. The diversity of his friend group is inspiring, to say the least!
Illustrated by Students
We love Tiago because each and every amigo of Tiago was created and drawn by a child ages 4 to 14.
Follow us on Facebook for Future Illustration Contests
Follow our Flip Flop Spanish Facebook page for contest information that may just get your little artist published. Contest winners will receive three copies of Tiago as a thank you from Señora Gose.
Additional Bilingual Reader
Check out Bella, our first bilingual reader which goes nicely with the Flip Flop Spanish Workbooks.
---
Share this Product
---
More from this collection